Save with
XPP-M
Time for a Safe, Sustainable and Cost Effective Solution.
Polystyrene and PVC have historically been the material of choice for a vast range of medical and pharmaceutical packaging applications - from diagnostic kits and sterile barrier trays, to form-fill-seal unit-dosing pods, and much more. But lack of recycling options and sustainability challenges, health and safety concerns regarding presence of certain materials in PS and PVC, and the rising cost of materials, have sent OEM medical companies and converters in search of alternatives.
Impact's XPP-M Polypropylene rollstock offers a safe, sustainable, and cost effective material solution that drops-in to existing thermoforming and form-fill-seal equipment and tooling for simple PS & PVC replacement in medical and pharmaceutical packaging applications.

A lightweight material solution in comparison to alternatives, XPP-M reduces cost and increase output providing:
12% yield increase vs PS
31% yield increase vs PVC
34% yield increase vs PETG
Download the XPP-M Economic Comparison Case Study to see the ways you can save with XPP-M!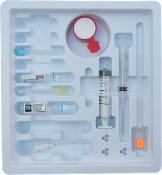 See how you can save with XPP-M:
Download the XPP-M Economic Comparison Case Study: